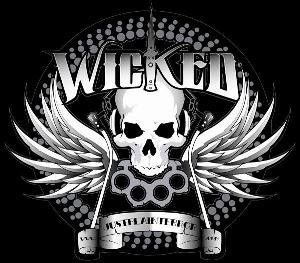 Here is an interview with the one, the only Dj Wicked.  This interview is from NWWeekly.com.  I've been a fan of Dj Wicked for some time now, his track Hypnosis was featured on the DayMakers Mix #1.  The track was taken from a 12" him and Dj Void split.  I highly recommend picking this up.(see the links at the bottom)   Here is the interview:"My,
my, my this DJ Wicked is rather confrontational. And violence-prone.
Self-reliant teetotaler Kirk Kirkpatrick moves past the posturing and
fills us in on all things Wicked. The full-time DJ has a packed
calendar with several dates outside of Portland on the horizon. We find
out why that's important to him as well as how important a skill he
finds scratching in relation to mixing and what it will take to get
this hip-hop head to play some Britney Spears.How did you decide on your DJ name?
If you've done your homework and you know your Portland HipHop history,
then you should certainly recognize the name "Wicked" as it was
spray-painted all across the city throughout the 90's. That was my tag
(my graffiti moniker) long before I even got into DJing. Though I took
a Felony conviction for it in the late 90's and was forced to pursue a
more legal/legitimate lifestyle, I hung onto the "Wicked" alias and ran
with it as my DJ nickname. Why "Wicked?" Because I'm the REAL evil one.As the Rapture say, "People don't dance no more, they just stand there like this" - how often do you encounter this?
I honestly don't run into that problem all that often, but occasionally
there's going to be that one person that you can never make happy no
matter what type of music you're playing. Those people usually fall
into that "mad at the world" category. I tend to disregard those people
out of pity because quite frankly, if you're at a party that I'm
spinning at, and you're not dancing, well then you MUST have some other
kind of issue that's probably way beyond that of my control? I mean,
standing in the corner of the club with a frown on your face and your
arms crossed is cool and all, but take it from me, you're just not that
cool.Ideal crowd?
Ideally I'd rather spin for a small crowd of true HipHop heads that
actually care about the music and the culture, rather than spinning for
a club that's packed full of superficial club rats that only care about
getting shit faced drunk and having a one night stand with someone as
equally ignorant as they are.But don't get it twisted though…whether it's a crowd of five people
or 5,000 people, I'll straight up rock the party to the fullest! And
I'm talking panties flying, tear the roof off the fuckin' club type of
party rockin'! I'm good like that. Ya better ask somebody.How do you feel about requests?
I trade bloody noses for song requests. If you're not waving a handful
of money at me, then get the fuck out of my face. I'm the DJ. I'm the
one that does this music for a living. I'm the one that breaks that
next new hit to the public. When it comes to the music being played in
the club, I dictate what's good, not you. That's why they hired ME, and
not YOU. I don't need nor want your help. I tell YOU what's "hot". You
don't tell me
what's "hot"! That's my job. And trust me, I do a GREAT job! Now do
your job as the club patron by shutting up and dancing your ass off!
Nine times out of ten, I probably don't have your request in my crate
anyway. And contrary to popular belief, showing me your tits won't make
a Britney Spears record appear in my crates. A stack of money might
though?!? I guess you just won't know until you try it…Do you have a story about a particular request or requester?
Maybe you should be asking this question to the girl by the DJ booth with the bloody nose.Do you DJ full time? / What do you do outside of DJing?
Yes, I DJ full time. When I'm not actually in the club spinning, I'm
usually either at home working on music, hustling up DJ gigs for
myself, or shamelessly self-promoting for an upcoming event. I exercise
a "Mr. Do-it-all" work ethic. You know, some self-made type shit. I
know that it's not realistic to be able to do absolutely everything
that I'd like to do all on my own, but I try my hardest to be as
self-sufficient as possible, and I try to avoid having to rely on other
people for things if at all possible. Besides, nobody is going to push
me, support me, or believe in me as sincerely as I do for myself, so I
find that it works out
better to take the self-sustaining approach. Plus it's a great feeling
to accomplish things on my own, and an even better feeling knowing that
I don't owe a bunch of favors to people.Outside of the music life, you can catch me skateboarding, working
out, going to the movies, traveling, and just basically enjoying life
to the fullest. I don't smoke, I don't drink, and I don't like hanging
out at nightclubs. I spend enough time in smoky-ass clubs when I'm
spinning, so that's the last place that I want to be on my nights off.Where can we find you? How'd you get your current main gig?
"Wicked Wednesdays" at Bar XV is currently my main gig. It's Portland's
longest running, most cherished weekly Underground HipHop event. I've
been hosting this weekly party every Wednesday night for almost a
decade now. It's actually coming up on the 10 year anniversary of
"Wicked Wednesdays," so you can expect a big anniversary party here in
the near future. WW's originally started at a little neighborhood bar
in Southeast Portland called Jezebels (R.I.P.). Over the years we've
had a number of venue changes including the Tonic Lounge, The Viper
Room, and the Greek Cusina amongst others. And then just last year we
found a new home for the night at Bar XV.WW's have become somewhat of a legacy in the Portland HipHop scene
over the years. It has also paved the way for a lot of other cats to
start up similar themed HipHop nights around town as well. However,
what sets WW's apart from all of the other weekly HipHop events in
town, is that we've managed to maintain a level of quality that just
can't be matched….not musically, not technically, and not in your
wildest dreams.The slogan goes: "Wicked Wednesdays…where good music and true skill
are still accepted", and we stand by that. There is absolutely nowhere
in the city of Portland where you can go every week to hear the
Oldschool and Underground HipHop gems that we're throwing down at
Wicked Wednesday and there is absolutely nobody in Portland that's
throwing it down quite like us, period.We have guest DJs coming through and spinning all the time. We open
up the mic and let the emcees get up and have freestyle cyphers
throughout the night. And we have B-boys coming through and
breakdancing on a regular basis. We keep the night true, we keep it
real, and we keep it raw. Wicked Wednesday isn't a fashion show. It's
an event for true HipHop fanatics, thrown by true HipHop fanatics. It's
not for the frat kids that only go out on the weekends, and it's
definitely not for the kids that only listen to the watered down,
mainstream, top 40 crap. Also, you're not going to come to Wicked
Wednesday and find a bunch of producers that wish they were DJ's,
fumbling their way through a sloppy DJ set. What you ARE going to find
however, is top-quality music, brought to you by top-notch DJs.So, if you're in Portland and you're looking for a REAL HipHop "fix", then Wicked Wednesdays at Bar XV is the place to be.How often do you play outside of Portland and when did you start?
As of lately I've been doing tons of gigs outside of Portland. On
average, I typically try to line something up out of town about once a
week. I love traveling to new cities and playing for new faces. It's
always the new faces that seem to appreciate me more, which is always
great motivation to keep me continuing doing what I love to do. I've
also found that it's really easy to over-saturate yourself in a city
the size of Portland. Plus if you just continue to stay in your
hometown and keep spinning at the same places all the time, it tends to
become sort of lackuster. If folks can come out to see you spin like 4
nights out of the week, sometimes they start to take that for granted,
and it becomes less special to them, so in turn they stop coming out to
see you as much.One of the main things that I'm focusing on this year is playing
gigs in as many different cities as I can. I'm really trying to be on
the road as much as I possibly can right now, with the intent of
gaining some new fans along the way.How long have you been spinning?
Well, I bought my first pair of turntables in August of 1992, so you do the math.What drew you to DJing originally?
In the late 80's/early 90's, I would listen to legendary DJ's like
Aladdin, Joe Cooley, and DJ Miz getting busy with their cuts and
scratches, and I always wanted to try to figure out how in the hell
they were making those sounds come from their turntables??? Shortly
after that, I hooked up with a friend of mine named DJ Y-Roc. He sold
me a pair of turntables, and my life has never been the same since.What are your thoughts on vinyl vs CDS vs laptops?
You're talking to someone that's been hunting down, digging, and
collecting vinyl for nearly 20 years. Vinyl is my shit! It's a huge
part of my life. It always has been, and it always will be. There's a
lot of digital technology available today that attempts to emulate
vinyl (programs such as Serato for example), but in reality, vinyl can
never truly be "replaced" just based on its nostalgic value alone.Aside from that, there are some very obvious positives and negatives
about the new digital DJ technology of today. I look at it like this.
If you're using digital programs like Serato as a crutch to lean on
simply because you're just lazy, then you just need to quit, like right
NOW! Nobody likes to watch a lazy ass, mediocre DJ. Figure it out.However, if you're using programs like Serato to it's fullest
potential, as a tool to both enhance and better your DJ sets, then more
power to you. Push the envelope and raise the bar with that shit!I definitely wouldn't say that I'm anti-digital by any means when it
comes to DJ technology, but for now I'm sticking with vinyl….not only
because I love it, but because I can still rock harder using my vinyl
than most cats can while using their digital programs like Serato.
Straight up!And as far as anyone that uses CD's or I-pods to DJ with are
concerned…just give them a final cigarette and a blindfold, and get it
over with already. Seriously!What songs will we find ourselves dancing to with you?
"Puerto Rico" – Frankie Cutlass
"Zulu War Chant" – Afrika Bambaataa Presents Time Zone
"The Breaks" – Kurtis Blow
"Apache" – Sugarhill Gang
"Jam On It" - NewcleusHow would you describe yourself in five words or less – complete sentence
or not:
Many have labeled me as "The Poster Boy for Party Rockin'"…..but I
think I would personally describe myself as "The Only Real One Left".How do you describe the genre you play?
The genre of music that I play is called "Quality Music".I'm one of the few remaining DJ's that's still fortunate enough to
get to play whatever I want, whenever I want, and still be successful
at it.Obviously there's a time and place for everything, but if it's Quality Music, then it's always the time and place for it.What do you think of hip-hop and rap in Portland? Do you feel it's embraced?
Yeah, I feel like it's being embraced more so now than it has in the
recent years past anyway. There are a couple of crews like Oldominion
and Sandpeople that are doing their thing and getting there shine on.
And then you still have the pioneers like Cool Nutz who not only paved
the way for the younger generation of Portland emcees, but he has also
managed to consistently release music and generate buzz for himself
after all these years.How about scratching, in terms of other DJs?
I can only think of a handful of DJ's in Portland that I would consider
to be really good at scratching. And unfortunately most of them are so
naïve and inexperienced that they actually think that all it takes to
be considered a dope DJ is to be able to scratch good. But in reality,
there's so much more to being a good DJ than just being able to scratch
good. And as much as I love scratching, I would still have to say that
I have a lot more respect for the well-rounded DJ, than I do for say a
DJ that only knows how to scratch, or only knows how to mix.Who are your other favorite Portland DJs?
I don't like DJs…they get on my nerves.However, It's pretty easy to tell you who the best DJ in Portland is
though. That would be "DJ Wels", hands down. You can quote me on that.
He's a beast! I don't just throw my name out there to co-sign for
anyone, but when it comes to cutting, scratching, mixing, song
selection, juggling, blending, party rocking, and any other aspect
related to DJing, he is the most solid, well rounded, technical, AND
funky DJ around.There's no other DJ in Portland that comes even close to being on DJ
Wels level, and anyone that thinks differently is only kidding
themselves. Sorry guys, it's not up for debate. Grab a tissue and step
your game up."Related Links:
DJ WickedSpaceJustPlainTerror.comNwWeekly.com (source)