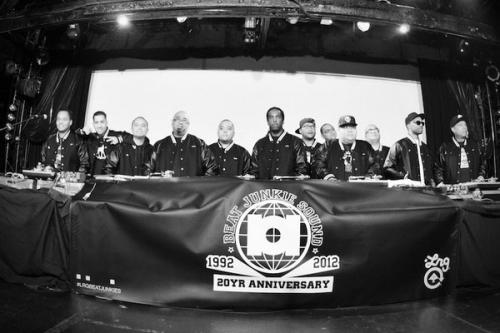 Wow, The Beat Junkies have been getting down for 20 years and to Celebrate LRG have put together a short documentary, 'For The Record' about them. They are such an amazing dj crew. Respect.
The Beat Junkies - For the Record from LRG on Vimeo.
The World Famous Beat Junkies, comprised of members J-Rocc, DJ Babu, D-Styles, DJ Rhettmatic, DJ What?!, Mr. Choc, Icy Ice, Curse, DJ Shortkut, Melo-D, Symphony and DJ Havik have been putting in work on the turntables since they were first established in 1992. Known internationally as the premiere DJ crew, their longevity is a testament to their immense musical talents. In celebration of the legendary Beat Junkies, LRG presents For the Record – a short documentary profiling the collective with contributions from the likes of A Trak, Q Bert and Peanut Butter Wolf – with DJ Jazzy Jeff commenting that "there are no DJ's out today that haven't been influenced by the Beat Junkies at all." In addition, the Beat Junkies are heading out on the road for an international tour with stops across the US, Europe and Asia and this past weekend kicked off their tour at the Echoplex in Los Angeles, CA on June 30. Laced in commemorative letterman jackets from LRG that celebrates 20-years of hard work and hustle, here's to another 20 more in the game.
https://twitter.com/BEATJUNKIES
http://fortherecord.l-r-g.com/
http://beatjunkies.com/