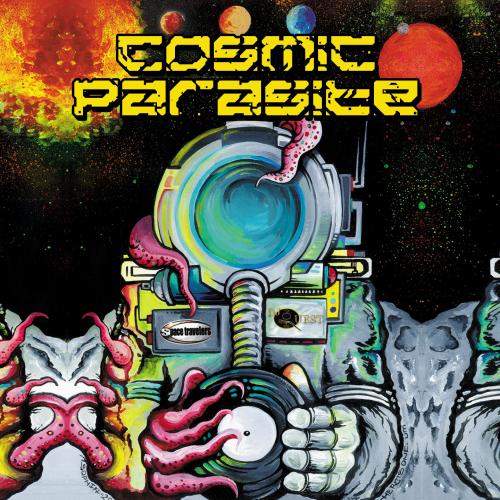 Cosmic Parasite is a collaboration between Dj Quest, Eddie Def & Dj Que. Quest cuts it up over beats & pieces put together by Eddie Def and more drums & such by Dj Cue. The album is clearly intended to be listened to from beginning to end like a nice mixtape. The individual tracks could stand on their own but when their put together its so damn good. It will be available on iTunes & other digi shops on October 31. Check a track from Cosmic Parasite & the links below.
From the Press Release:

Cosmic Parasite:
A soundscape and glimpse into a future world -created using traditional and modern hip-hop instruments; turntable, sampler, drum machines, synths and digital multi-track. The raw materials for this project were recorded and compiled by DJ Eddie Def who sampled a wide range of pre-recorded and stock sounds; drums, tones, dialog and pieces employing the use of an MPC2000, Korg MS2000, Roland MC505 and a random source of vinyl and movie clips. He then supplied Quest with a series of stems, beats, breaks, loops and fragments. Quest then conceptualized the vision for this sound-track by sculpting and shaping the crude sounds and arranging sections with scratching solos and combos using various techniques both complex and old school -played according with what the musical segment called for, placing them in their corresponding space to achieve the right dynamic intensity. At times remixing, over-lapping, re-tuning and of course cutting up the series of sounds provided by Eddie Def as well as his own selection of 'tweaks' and effects from his personal library. The work in progress was later passed on to DJ Cue who layered it with saucy beat programing and textural overdubs using AbletonLive which added a subtle high quality sonic presence to the mix. Last, Quest defined the multi-sonic puzzle and brought it together with final over-dubs and mixes arranged in a non traditional form but in a flow-form which dictates the next part of the song to follow naturally without the need to cater for vocal or lyrical content giving this recording it's sound-track value. The over-all finished product is an electro-funk/sci-fi/industrial -turntable and machine composition with sound-track/mix tape 'feel' to keep you on the edge of your ear.
Scratched, mixed & composed by DJ Quest
beats & pieces by DJ Eddie Def, additional drum programing and over-dubs by DJ Cue

http://soundcloud.com/questosahn
http://www.djcue.com/
http://djquest.com/