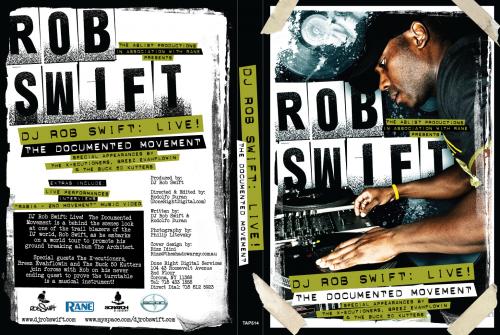 Rob Swift's latest dvd, 'DJ Rob Swift: Live! The Documented Movement', is available now. It's Premiering tonight at the Queens World Film Festival. The DVD has interviews mixed in with 'The Architect' release show last year. The extras include Rob Swift & Breez Evahflowin at Fat Beats during their final days. Both the release show & the Fat Beats in-store are shows I wish I could have seen in person. For us in different parts of the country or world this is the next best thing. You can order now at www.djrobswift.com.
You can win an autographed copy of this dvd. How? Answer this question:
What is the name of Rob Swift's Last DVD?
(hint: www.djrobswift.com)
Send you answer here., with Rob Swift in the subject line.
A random winner will be picked on March 14th.
About the DVD:
DJ Rob Swift: Live! The Documented Movement
On February 25, 2010 one hundred or so New Yorkers braved through blizzard conditions and gathered at Club Legion in Brooklyn, NY to celebrate the release of Rob Swift's 4th album THE ARCHITECT. As much as that night served as a prelude to his various tour dates throughout the globe, spreading the word of his latest LP, it was also a nostalgic reminder of Rob's humble past as a member of the X - men. "We used to pack small rooms, intimate venues... just like this... and we'd be excited!" Hence, welcome to DJ Rob Swift: Live! The Documented Movement.
Extras:
Fat Beats Farewell Instore - Due to the drastic decline of record sales in recent years, Fat Beats Record Store (NYC) closed it's doors in September of 2010. DJ Rob Swift and Breez Evahflowin say good bye with a performance that will forever be etched in the minds of those who turned out to pay their respect to a New York City Hip Hop landmark.
Rob & Butcher Interview - Here's an intimate look into the relationship Rob has with his mentor, Dr. Butcher. Both converse about their practice habits, approaches to DJing and how they inspired each other to create.
Rabia Music Video - Behind the scenes footage of Rob Swift preparing to shoot the "Rabia - 2nd Movement" music video.
http://www.scionav.com/radio/channel14
http://twitter.com/DJROBSWIFT
http://www.djrobswift.com/