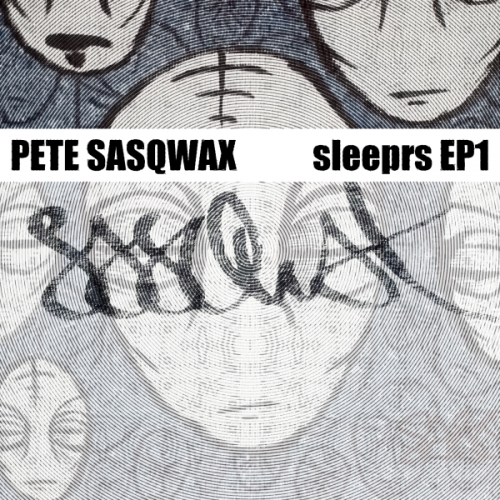 'Sleepers EP1' is here. I've been looking forward to this EP since I heard it was in the works a few months back. Pete Sasqwax, formerly known as WaxFactor, has formatted this EP like a 12", It picks up where Sci Fu left off. Highly Recommended . It's name your price on Bandcamp. There are extras for people that pay/donate for the album.
These 9 tracks represent a significant period of time and span from the period between releasing the 'Sci-Fu' album (under the name Waxfactor on Needlework Records) and 2013. During that period I produced and recorded hours and hours of music - none of which I ever really did much with. I was like the proverbial painter who can never put down their brush - constantly adding and touching up here and there - never satisfied.
Towards the end of 2012 I began to realise the absurdity of never releasing any of the things I had been making and started trying to put together an LP. The process of cutting down hours and hours worth of music to a single CDs worth of tracks seemed impossible and whilst I'd managed to put together a pretty comprehensive list of the tracks I wanted to include, I could never get them to quite sit together properly. Ironically, it was only when I made the decision to view the release as an EP - like the Gameface 12" I did as my first release for Needlework - that things really started to come together properly. Whilst I knew I wasn't likely to be pressing up 12"s of the EP, I imposed the same restrictions on myself as a vinyl release would have made necessary: 28 minutes in total with a maximum of 14 minutes per side.
The result is the collection of tracks presented here - the first proper collection of music I have released under the name Pete Sasqwax.
I would like to acknowledge the support of all my family and friends throughout all the years I have been making music - I hope you're not done yet because there's a lot more to come.
Thanks to John Rose for lighting up "Zoeller" and making it the obvious choice to round out the EP. Thanks to Darren Hemmings, whose words of advice when we were putting together 'Gameface' all those years ago still reverberated around my head when I was putting together this EP. Thanks to Pete Phillips at Analogue Fidelity for mastering the tracks.
---
Finally - this release is provided on a pay-what-you-want basis. All I would ask of you is your email address so that I can keep in touch regarding future projects and releases. Don't worry - you can opt out of those updates whenever you wish. For those who do wish to donate something - many thanks in advance. I will ensure that you receive a special exclusive bonus for your generous support and will use your donation either to fund more releases of my own (hopefully including a vinyl release before the year is out) and to support other likeminded artists who keep this music alive.
https://soundcloud.com/petesasqwax/
http://waxfactoryrecords.bandcamp.com/album/sleeprs-ep1
http://petesasqwax.co.uk/