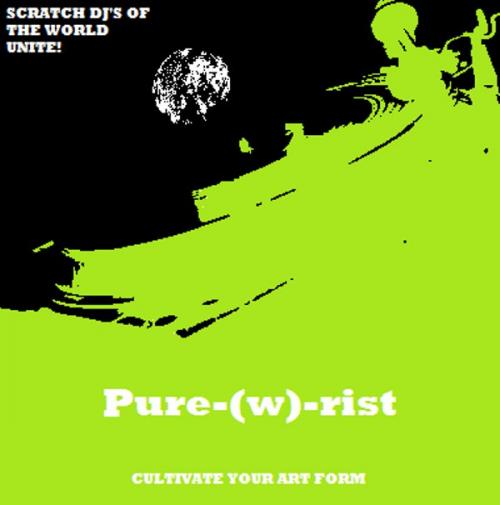 Mr Funktion of Denver Colorado has started a very cool scratch video project. Pure(w)rist will be an annual video compilation composed of videos from scratchers around the globe. The first video is expected to be out in January 2011. You can contribute your video & audio to the project, check the Pure-(w)-rist manifesto below for the details.
Pure-(w)-rist (noun): someone who insists on great precision; a person who is in search of pure form.
What is Pure-(w)-rist?
Introducing Pure-(w)-rist, a free annual online video designed for the sole intention of spreading and promoting scratch culture. Pure-(w)-rist feature's audio and video submitted by scratchers from around the globe.
Why does it matter?
Pure-(w)-rist will serve as a valuable educational tool, which will help Connect individuals with others who share a similar passion, as well as allow every participant to Communicate with one another via the art of scratch. Ultimately, the main focus and mission of Pure-(w)-rist is for all parties involved to be able to Cultivate and Elevate their scene further by exposing people from all over the world to the culture of scratch.
How does it work?
By simply sharing the video with others in your area you'll expose the audience to a new perspective of the art form, causing the seed of new ideas to be planted, and helping others mature as artists. Once learned, we can apply this new found knowledge to our own scenes. What's more, an even greater elevation occurs due to the fact that scratch culture transcends all cultures – no matter nationality, race, ethnicity, religion, language, or even ideology – the art of scratching breaks down barriers exposing individuals to a common-shared culture.
How do I get involved?
* Participate! We rely heavily upon audio and video files from you, so be sure to send them to purewrist@gmail.com. Please have the subject heading read "purewrist video submission" – (.avi .wmv and quicktime formats welcomed). Please keep videos no longer than 3 minutes long. Include your dj name, location (Country, City, State), name of track or looper you're scratching over, and any crew affiliations you would like us to mention. For all audio submissions, please have the subject heading read "purewrist audio submission" – ( any format is fine). *Please note that we'll select portions of tracks at our discretion.
* Spread the Word! We're an entirely grass roots team with limited time and resources, so please help us by telling friends about submitting audio and video files.
* Join the Team! Founded in 2010 and based out of Denver, Colorado, we're fairly small, but would love to have like minded individuals join our team of scratch culture activists.
Thank you for your consideration!
http://purewrist.wordpress.com/
!/profile.php?id=100001531912048