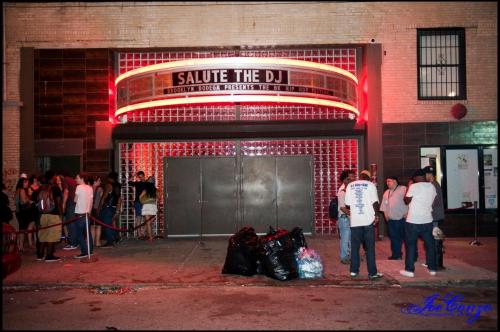 JUST ANNOUNCED! The "Rap Attack" live showcase will feature guests: Keith Murray, Craig G, Roxanne Shante, Force MDs, Awesome Two, Uncle Ralph McDaniels, Bugsy of WBLS, and Grandmaster Caz of The Cold Crush Brothers.
Taking place on July 14th as part of the Festival, Salute The DJ will bring together some of Hip-Hop's best DJs while paying tribute to the late John "Mr. Magic" Rivas. An award will presented to the Mr.Magic Shout Out Foundation, Inc. with proceeds going to the Heart Foundation in the name of Mr. Magic's children Lucky and Domonique.
Click here to listen to WNYC News radio segment "Legendary Mr. Magic Dies at 53? with commentary by Wes Jackson, Executive Director of The Brooklyn Hip-Hop Festival. (http://www.wnyc.org/articles/wnyc-news/2009/oct/07/legendary-dj-mr-magic...)
In addition, Grand Wizzard Theodore the "Inventor of the Scratch" will be performing a special DJ set; Mista Sinista (X-ecutioners), Rholi Rho (5th Platoon) and DJ Getlive will be on the wheels of steel for crowd-wowing Turntablism routines; Chairman Mao (Egotripland) will connect classic tracks with Hip-Hop favorites in his Beat Digging set; while Twilite Tone will get everyone on the floor dancing.
During this special night, there will be freestyle dance performances by B-boys and B-girls from the Dance Cat-alyst Troupe. Attendees can expect to dance the night away alongside talented breakdancers whose dance moves will compliment the DJs expertise on the decks.
Pre-show and day-of contesting will have giveaways by FLüD and Scratch DJ Academy.
Salute The DJ Run-of-Show
9:00- 9:30PM - Opening set DJ Henry C
9:30- 10:15PM - Twilite Tone
10:15- 11:00PM - Chairman Mao
11:00- 11:30PM - Grand Wizzard Theodore
11:30- 12:00AM - Mista Sinista
12:00- 12:15AM - Roli Rho
12:15- 12:30AM - Roli Rho/DJ Get Live
12:30- 1:30AM - Marley Marl's "Rap Attack Live" showcase
Brooklyn Bodega Prez Wes Jackson visited legendary DJ/Producer & Salute the DJ performer Marley Marl to discuss a wide array of topics from his nearly 30-year career in Hip Hop.
In Part 1 of 3, Marley Marl reminisces about his humble beginnings with the late Mr. Magic, the legendary Juice Crew All-Stars, and reveals some of his special guests for his tribute to Rap Attack & Mr. Magic's legacy.
Make sure you check out Marley Marl & more at the Brooklyn Hp Hop Festival's Salute the DJ at the Music Hall of Williamsburg on Thursday, July 14th.
Special thanks to WBLS.
Shot & Cut by Jav Martinez for Tha Reelness/Brooklyn Bodega
http://vimeo.com/user7384638
http://vimeo.com/user7384638
http://ThaReelness.Tumblr.com/
http://www.bkhiphopfestival.com/