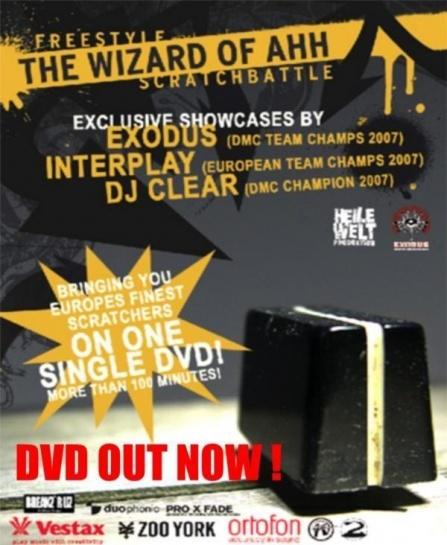 So its been more than a minute since I've paid any attention to a battle of any kind. There are some pretty good videos circulating on youtube & myspace and so on. Here is a dvd that might be worth getting. I've ordered mine. Its from the Wizard of Ahh Freestyle Scratch Battle 2008. It is 100 minutes of dj's getting down. Check the trailer below. You can order from hhv. Here is some info from the press release:
This DVD will give you a full impression of a freestyle scratch battle,
the way its supposed to be.
17 Competitors form France , Belgium and
Germany battled for the Freestyle Crown.
The competitors had to
improvise each round on random beats , to show how well they can flip
the ahh..s and fresh..s!
If you..re a Skratch Nerd , Skratch Dj or just interested in this
Artform , this Dvd will blow you away to the very core , bringin you
europes finest scratchers on one single DVD!
There..s also a big bonus section on this DVd , featuring exclusive
Videos by Exodus ( DMC TEAM CHAMPS), Interplay ( European DJ CHAMPS) ,
Dj Clear (German DMC CHAMP), R-ash ( Scratch Science) , Deska ( WOA
Champ 2008) and many more!Related Links:order from hhv