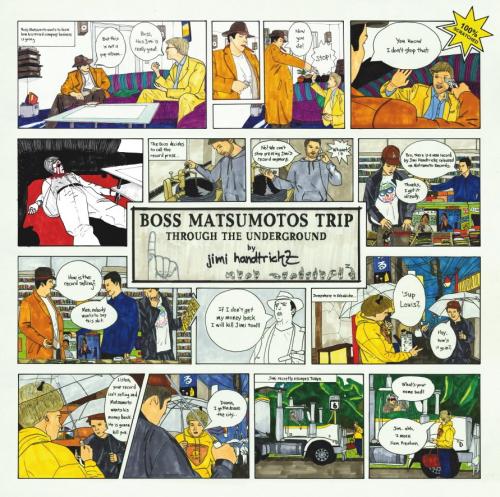 Jimi Handtrickz new album, Boss Matsumotos Trip Through the Underground, is all scratched musical goodness. The twelve tracks serve as a soundtrack of sorts for the comic strip cover art. In addition to producing, composing & preforming the entire album Jimi Handtrickz also drew the comic strip on the cover. The album seems to have at the very least a little something in there for anyone that listens to instrumental hip hop and a lot for fans of scratch music. Its currently available on iTunes & for pre-order at hhv.de. Check the Snippets below, there are more on Jimi's myspace page.
Available on iTunes, Rhapsody & napster.
Track Listing:
01. the headquarters
02. kill your man
03. cutting beats
04. in the recordstore
05. shinjuku prince
06. speed on the highway
07. meditation
08. hong kong streets
09. nightclub
10. the showdown
11. ave maria
12. credits
THE RELEASE
You can find 12 songs on the album of different styles and forms. It contains dark, jazzy scratch compositions as well as some more danceable songs. The one element tying them all together is the way they were produced.
Every single drum, bass or guitar sample was cut up using just a mixer and a turntable. So this album takes the rare title "100% SCRATCHED".
It was, however, important to Jimi that his music appealed to people outside of the djing or turntablism scene. The result is an extraordinary project which will excite turntablists and listeners of instrumental hip-hop alike.
THE ARTWORK
But the music is not the only special feature of this project. The cover of the record shows a 29-picture comicstrip with a thrilling story of Jimi escaping from the dreaded Tokyo mobster Matsumoto.
The comic is associated to the samples used in the songs, so you can read the comic while listening to its "soundtrack". The Drawings were done by Jimi himself during a one-month drawing odyssey.
http://www.hhv.de/index.php?rid=169230
http://www.jimihandtrickz.com/
http://www.myspace.com/jimihandtrickz
Preview below.